Low Carb Egg White Pancakes  by Stella Juarez Post

Makes 1 serving

The unprocessed bran flakes add a little dignity and bite to these all-natural, very economically made low carb egg white pancakes.  The high fiber content of the unprocessed bran flakes drops the effective carb count to just 6 grams!

Ingredients:

1/4 cup unprocessed bran flakes

10 large egg whites

1/4 tsp cream of tartar

1 packet artificial sweetener

1/8 tsp ground cinnamon

Directions:

Whip room temperature egg whites and cream of tartar with hand mixer until stiff peaks develop (if you neglect to do this, your pancakes will have a flat, omelet-like texture). Fold in remaining ingredients and mix well. The batter will be stiff and foamy. Spray skillet with non-stick cooking spray and spoon in batter. Cook until each side is lightly browned. Serve with butter replacement and sugar-free syrup if desired.

Nutritional Information:

Per Serving: Calories- 192  Carbs- 12.4g  Protein- 34.9g  Fat- .4g  Fiber- 6.3g

Kitchen Tip: Cream of Tartar isn't a liquid cream, it's a fine powder found in the spice aisle at the supermarket.  Cream of tartar is a baker's secret to maintaining the fluff and height of egg whites that have been beaten into a stiff foam.  It helps maintain form while being mixed with other heavier ingredients in merengues and icings.

Stella's Related Articles & Recipes: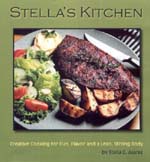 "Best Cookbook of 2003"

S.F. Bay Area Independent Publishers Association