Isaiah's Spicy Tuna Burgers  by Isaiah Juarez Holland

Serves 2                     

This is actually my son's recipe. This easy tuna burger has a very spicy flavor with a zing of lemon. It came out perfect the first try; just goes to show how much our kids can learn about food just from watching us.

Ingredients:

1 can solid white albacore tuna, drained

1 tablespoon bread crumbs optional

1 large egg white

1 teaspoon lemon-pepper seasoning

1 tablespoon red pepper flakes

Directions: Mix all ingredients together in small bowl. Form two patties and cook on a pre-heated non-stick pan sprayed with non-stick cooking spray until tuna patties are slightly browned. Served on beds of lettuce (low carb) or on slices of Ezekial 4:9 bread.

Nutritional Information (Recipe Total):

Per Serving: Calories- 205 Carbs- 5g Protein- 28g Fat- 7g  Fiber- 1g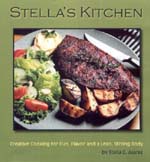 "Best Cookbook of 2003"

S.F. Bay Area Independent Publishers Association